MP3 Audio Recorder
MP3 Audio Recorder is a powerful sound recording and playing program. With it you can record sound from microphone, line-in, streaming audio from the Internet or music played by Winamp, Windows Media Player, Quick Time, Real Player, DVD player, Flash, games, etc. Recorded sound can be saved in Wav-file format or MP3 format.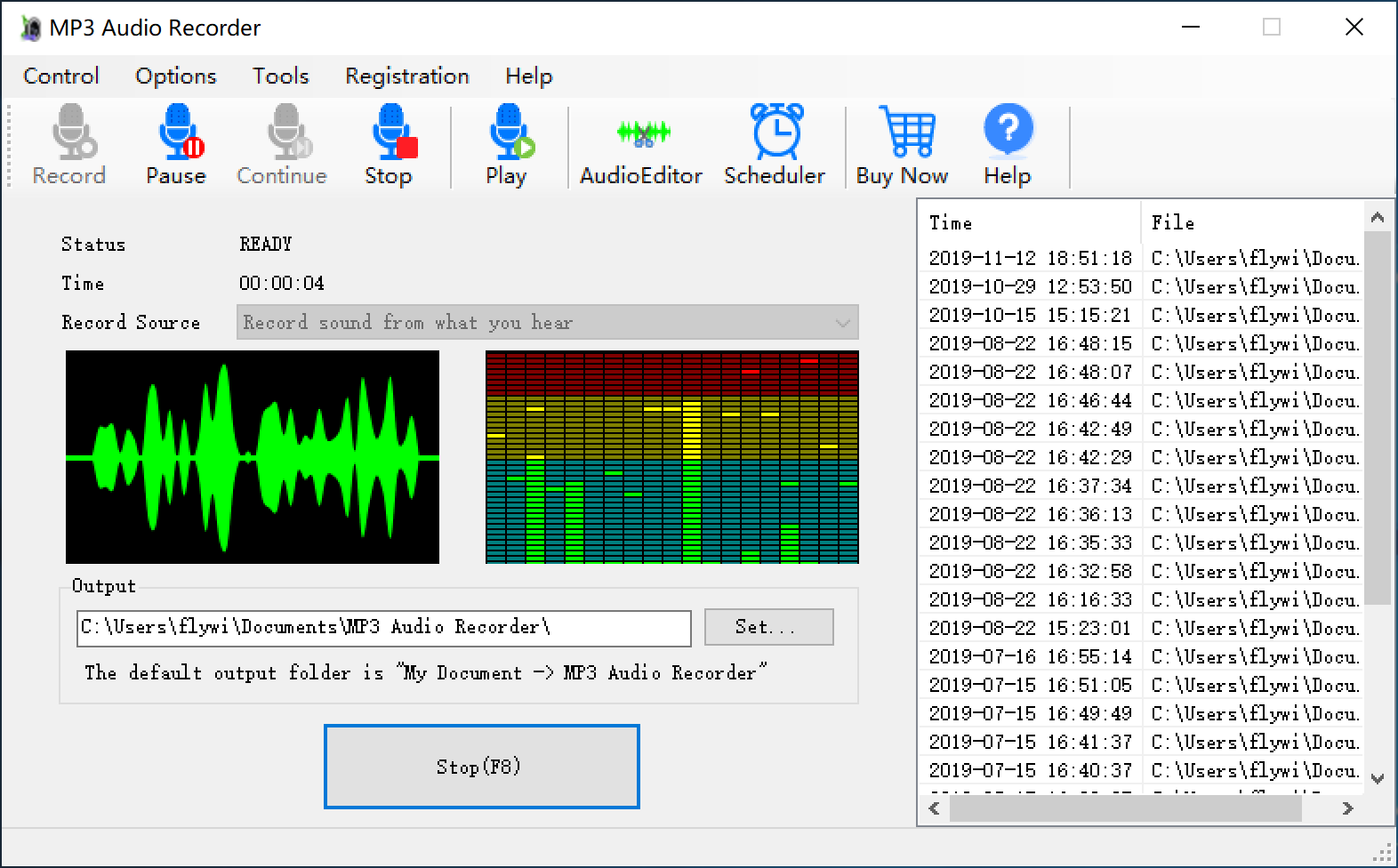 Main features:
Save Recording files in WAV / MP3 format. It makes MP3 files directly, no need temporary files and to waste much time converting it to another format.
Audio Editor. You can cut/copy/paste recording file.
Scheduler. You can start recording at a set time in any given day,the recording file you can name yourself or be generated automatically by system.
Windows Vista, Windows 7, Windows 8 and Windows 10 Compatibility. Support Microsoft's new operation system Windows Vista, Windows 7, Windows 8 and Windows 10.
Background recording mode. You can set hot key to hide or display software interface. The default is "CTRL+S".
Write down audio information to recording file. You can write title, artist, album, composer, track, and year to recording file.
Support multi sound cards.
Change skin. You can customize MP3 Audio Recorder with more than a dozen skins. The default is Mac-style.
Hot key. You can use F5 (record) F6 (play) F7 (pause/continue) F8 (stop) to finish the work. This'll avoid the noises when you click the mouse.
User-friendly interface. It's very easy to use MP3 Audio Recorder.
Download.com Review of MP3 Audio Recorder

If you can live with the rather restrictive trial limitation and without certain features, MP3 Audio Recorder makes a decent choice. Although this application's default Mac-style appearance is attractive in its own right, we appreciated the option to customize it with nearly a dozen skins.
The streamlined interface is easy to use and lets you separately set recording levels for sources such as a CD player, a microphone, a line-in jack, PC speakers, or a phone line. You can save files in both MP3 and WAV formats and specify audio quality, though we wished the program supported the space-efficient VBR codec. .... We also should note that the trial version will only let you record a maximum of two minutes per clip. Nevertheless, MP3 Audio Recorder's user-friendly interface should help it appeal to beginners who want to turn their cassettes and LPs into digital-audio files.